By Don Carroll, R'58
(Written April 2006)
Twenty-five years ago, the first Alumni Day for the reconstituted Alumni Association was held at St. Joseph's College in Mountain View.
The idea for a gathering of alums came out of an Advisory Board to then Archbishop John Quinn. Jerry Brown (R'58) was Rector and President of the College. At a Board meeting in 1979 or 1980, he described how the number of seminarians was very low (less than 50), ironically at a time when faculty was superbly qualified. He also described a morale problem among priests generally and a negative perception of St. Joe's among those priests who should be active in recruiting young men for the College.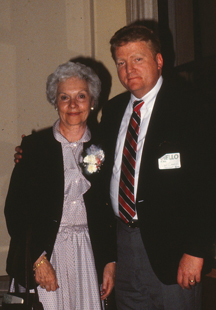 Don Carroll (R'58), who was a recent new member on the Board, suggested the idea of a reunion—a reunion which would allow priests to see and feel the support of their former classmates and a reunion which would expose the priests to St. Joe's once again. The idea was enthusiastically received.
The problems were immediately logistical. Old seminary records did not contain current addresses. How to find as many as possible? Another Board member, Msgr. Pete Armstrong (R'48) (then pastor of St. Pius in Redwood City), was of immense importance. He caused a letter to go to every priest in the San Francisco Archdiocese and in some other surrounding dioceses asking priests to search their memories and their Christmas card lists for current addresses of known alums. The response to Pete Armstrong's gracious efforts was more than could be hoped for; he had his staff at St. Pius process the returns because the Association had no staff person.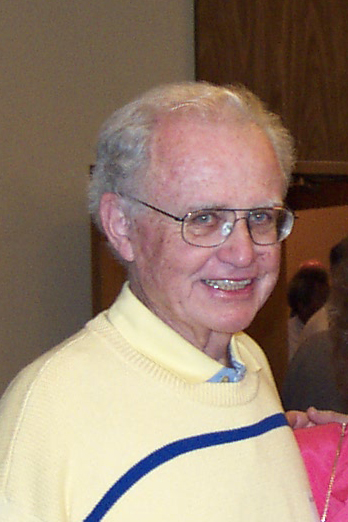 We needed a database to keep the new information and to grow the list. Walt Harrington (R'51) jumped in with his usual generosity and enthusiasm. He purchased the first computer for the Association and secured (and paid for) the services of his own computer wizard to design the systems. It was placed at St. Joe's. (Now, Chuck Smith (R'60) has brought us into the technological age with our own website:
www.SaintJosephsCollege.org
.
Virginia ("Ginnie") Sullivan was working for Fr. Brown at St. Joe's where she had been Registrar and Jerry's Administrative Assistant. She took up the day-to-day work of the Association's formation, a job that eventually became full-time. After the 1989 earthquake closed St. Joe's, she ran the Alumni Association out of her home in Sunnyvale. In 1998 Ginnie retired and Jim Murphy took over the reins. Under Jim's leadership the Association has expanded and improved immensely. He is now involved with every aspect of the association and has his finger on the pulse of the Association. You can see this by the high-quality Newsletter that Jim produces.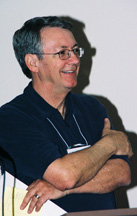 Shortly after the creation of the San Jose Diocese, the First Alumni Day took place in 1981 with the blessing and support of Bishop Pierre Du Maine (R'51). What a marvelous turnout! Notices had been placed in parish newsletters and diocesan papers. The courtyard was full. The by then 50+ seminarians quickly learned that they belonged to something much larger which included bishops, priests and just a bunch of "guys", all filled with stories and abundant laughter. The crowd has only grown, sometimes over 300! Fortunately, the number of seminarians grew too and was about 120 when Jerry left in 1985.
To get Grace said and to call everyone to the table was the first challenge of the day. Dennis Moriarty (R'56) went to the bell and pulled the long cord. Immediately, there was absolute silence throughout the courtyard. Old habits die hard!
From the very beginning, anyone who ever went to St. Joe's has been eligible to be an alum, no matter for how long and no matter what choices were made after St. Joe's or St. Pat's. Staying for one cup of "can" is enough. We hope some lost alums may yet appear to join with us. (We now have real coffee and even some Holy Water.)
The 1989 earthquake took care of St. Joe's buildings. We continue to meet regularly at St. Pat's, however, to affirm and celebrate each other. Not just nostalgia, but a celebration of journeys made and being made to this day. Twenty-three of our alumni diligently act on the Board of Governors of the Association, and alumnus Jim Murphy (R'64) serves as our Alumni Coordinator.
Twenty-five years—and counting. Ad multos annos!